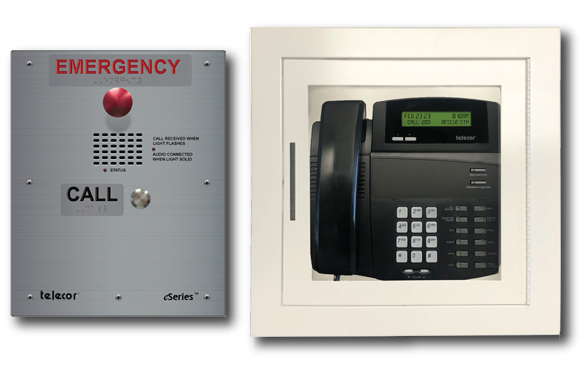 Area of Refuge
We can't prevent all emergency situations from happening but we can help you be more prepared to communicate and respond effectively and efficiently when an incident does occur.
Telecor's Area of Refuge ensures you will be able to locate and communicate with individuals needing assistance or rescue in the event of an emergency.
Backed by over 40 years of communication expertise, Area of Refuge is managed by eSeries next-generation non-blocking communication system.
Area of Refuge checks all of the boxes when it comes to selecting an Area of Refuge solution:
Fully Supervised
ADA Compliant with Approved Signage
Power over Ethernet (POE) Design
Vandal Resistant Call Stations
When seconds count, and those with mobility challenges need egress assistance, count on Area of Refuge to quickly connect and provide seamless two-way communication.
Area of Refuge fits into the design of Education, Commercial, Healthcare and Government facilities.
---
We are here to assist you throughout your project life cycle. Let's get started!
Schedule a Webinar
Area of Refuge: Schedule a Webinar
Area of Refuge: Schedule a Visit