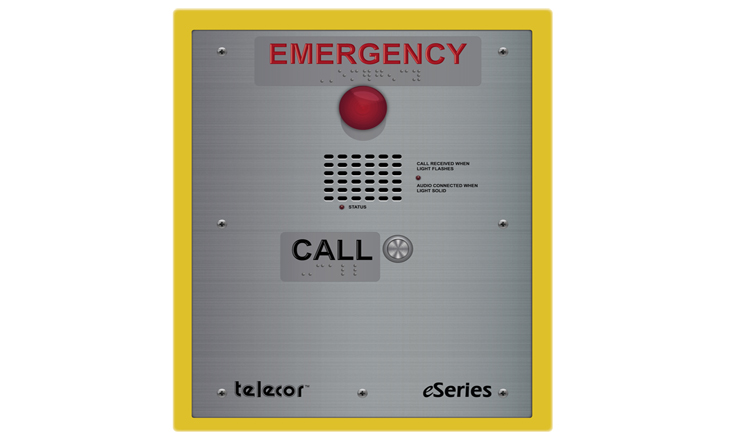 Rescue Assistance
The Rescue Assistance Station is designed to be ADA compliant, tamper-proof and vandal-proof. It provides normal and emergency call-in capabilities from a single, rugged call station designed for high visibility.
---
Rescue Assistance Details
eSeries flexibility in an all purpose-built package.
The Rescue Assistance Station uses Power-over-Ethernet (PoE) technology, Just-Plug-It-In!™ design, and a decentralized network structure to ensure easy wiring and simplified network planning. PoE technology allows the station to be plugged into a PoE network switch to supply both power and data.
The simplicity of Telecor's Just-Plug-It-In!™ design means the station does not require any network configuration or administration, eliminating IP address and DHCP server requirements. The decentralized network structure means no head end, central server or controller equipment is required to operate the network.
Once plugged into the LAN, the station is immediately functional. It can place normal and emergency priority call-ins to eConsoles and receive tones and alerts as well as receive pages and audio source distributions from devices on the network.
Features
Rugged design includes tamper-proof call switch and vandal-proof speaker assembly
Places normal and emergency priority calls to eConsoles over LAN
No centralized head-end, server or controller required
Power-over-Ethernet (PoE) driven
Mushroom style emergency call actuator
Supports auxiliary functions (e,g, door release, siren, strobe)
Fully supervised with status and call indicator LEDs
Audible and visual call-in assurance
Crystal-clear HD Audio™ speech quality
---
We are here to assist you throughout your project life cycle. Let's get started!
Schedule a Webinar
Rescue Assistance: Schedule a Webinar
Rescue Assistance: Schedule a Visit